As an industry leader in industrial infrared heating ovens and heating systems, Ceramicx has the ability to provide an end to end service for you. Covering all the major processes, we have the in-house capacity to take your custom oven or heating system from inception to completion, all under one roof.
Our on-site expertise covers the entire R&D and CAD/CAM industrial design process and continues through to product prototype, testing, and manufacturing stages to custom build and finish. While this one-stop method ensures efficiency, as well as time and money savings, it also allows for full traceability of your finished infrared oven or heating system and its parts across the entire process. 
Machinery
With almost 30 years in the industry, our machining capabilities have steadily increased in that time. We now have an unrivalled range of advanced production machinery available to meet every demand. Together with continued investment in our R&D and testing labs, as well as our product design software, our key plant and machinery list includes:
Guillotine
Press brake
Punching machine
CNC turning and milling
Grinding
Wire EDM
With our investment and self-sustainability over the years, we've always been able to maintain the levels of production that we're known for.
By managing every custom oven build or heating system in-house, it gives us the flexibility to produce and test every part required, as well as ensuring their quality and standard remains as high as possible. Beyond that, it means savings in time and money which we're able to pass on to you. This also gives us the advantage of being able to contract manufacture for customers. 
Product testing
Each and every one of our ceramic and quartz medium wave elements goes through thorough end of line testing prior to use in your oven or system. All data and test results are stored in a searchable Birth Certificate database and have 100% traceability on each tested parts.
And working to your own exact oven or heating system specifications and requirements, your system will also undergo thorough process testing prior to dispatch. This ensures the highest standards of quality and safety are met throughout the process and are applied to your oven or system, giving you product longevity and peace of mind.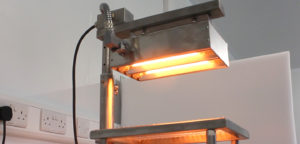 Materials testing
As part of the product testing process, we undertake extensive and continuous materials testing in our R&D labs to ensure your infrared oven or heating system is fit for purpose, including:
Customer request testing
Testing of sample material pieces requested by customers will determine their ability to receive and convert thermal radiation into heat in your oven. White Papers may be commissioned. The tests will indicate:
The best type of short, medium, or longwave heater
The optimal heater to material distance required
The ability and effectiveness at conducting or transmitting radiation based on the thermal gradient across its thickness.
This testing is crucial when designing a custom oven or heating system for a specific material.
Like-for-like testing to compare performance.
Reference materials can be used when comparing the performance of a specific heater. It's possible we may change our own emitter standards to improve performance, so those emitters will be used to heat the chosen material. The results are then compared to establish whether there's been any performance improvement.
The ability of the emitter to heat the material effectively is a key performance indicator. We also use reference materials when we compare our own Ceramicx emitters with like-for-like competitor alternatives.
Ceramicx Components
As well as building industrial infrared ovens and heating solutions, Ceramicx is also a leading manufacturer of infrared ceramic and quartz heating elements and components.
Supplying products to companies across the UK and to over 80 countries around the world, we produce a range of unrivalled technical products and supporting architecture for the application of infrared in any industry process.
Whatever your industry or market sector, your manufacturing processes will benefit from our complete range of infrared radiant heaters and emitters, ceramic elements and bulbs, components and accessories. For more information, please visit our Ceramicx Components website.