Together with our in-house capabilities in designing and building custom industrial infrared ovens and heating solutions, Ceramicx are also a leading manufacturer of infrared ceramic and quartz heating elements and components.
Supplying to over 80 countries worldwide, the following products and supporting architecture are available for the application of infrared heating in any industry process. Our online shop services Ireland and the UK. We also supply elements for machine builders in large quantities. Please email [email protected] for more information and feel free to read these case studies on some of our machine builder partnerships.
For more detailed information and to buy any of these products from our complete range of infrared radiant heaters and emitters, ceramic elements and bulbs, components and accessories, please visit our Ceramicx Components site.
Ceramic Infrared Heating Elements
Our range of ceramic heater elements can be used in a wide range of commercial and industrial processes. Their long-wave, infrared radiant heat is highly effective in heat applications including thermoforming, packaging, and annealing. But they're equally as effectual when used as heating in any paint curing, printing, or drying processes.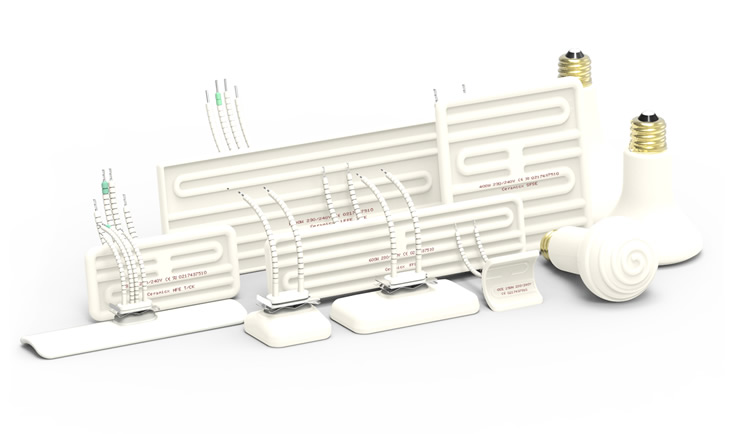 Including trough, hollow, and flat elements, and Edison screw bulbs, this wide range of infrared ceramic elements provide energy-efficient heat wherever it's needed.
Below is an illustration of the radiant output of our ceramic element types.
Quartz Infrared Heating Elements
Often used where fast heater response or zone-controlled heating is needed, quartz infrared heating elements can be used in a range of industrial applications, including thermoforming, curing, and custom heater systems.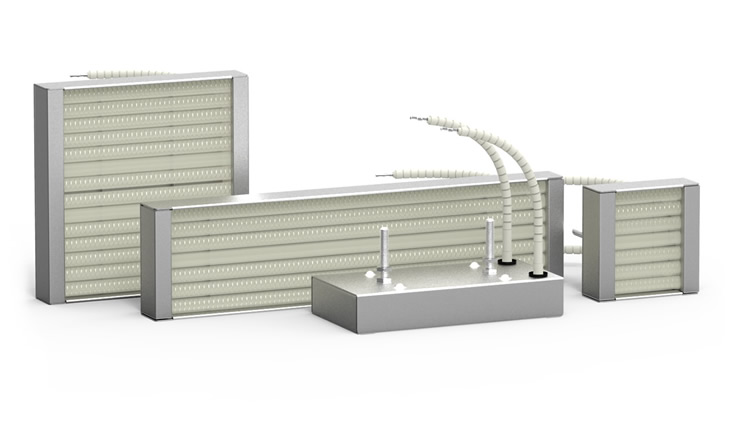 With a range including medium to long-wave full, half, quarter, and square elements, pillared quartz elements, and quartz square tube elements, these versatile heaters give instant and efficient heat response wherever it's needed.
Quartz Tungsten / Halogen Infrared Tube Heaters
Providing the highest temperatures needed for fast-moving processes, short wave quartz halogen and medium wave quartz tungsten emitters are perfect for specific material testing and curing.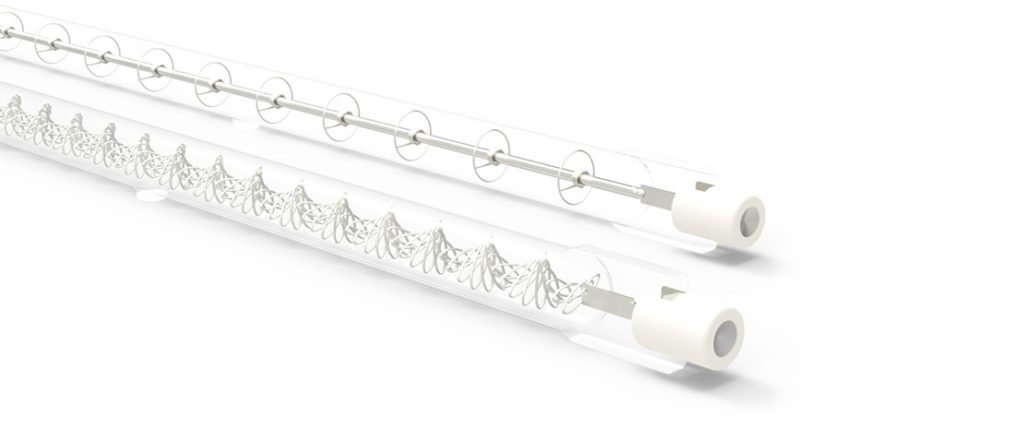 Reaching peak heat output of upto 2600˚C (depending on model) in seconds, their input power is immediately converted into efficient, radiant heat. Suitable for plastic curing and forming, the high-intensity, yet, precision-controlled output is ideal for heating systems with short cycle times.
Industrial Infrared Oven Components
Specifically designed to help maximise and optimise your infrared processing power, our range of infrared oven components and test equipment includes infrared projectors, reflectors, panel heaters, and modular heating solutions.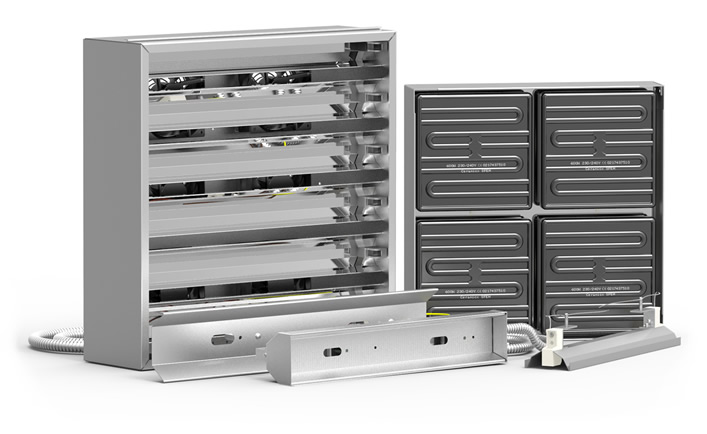 Giving you increased heat, speed, and efficiency, our components work seamlessly with our full range of heater elements and emitters.
Accessories
Together with all our components and range of infrared radiant heaters and emitters, and ceramic elements and bulbs, we have a range of accessories available to enhance any machine builder's heating system.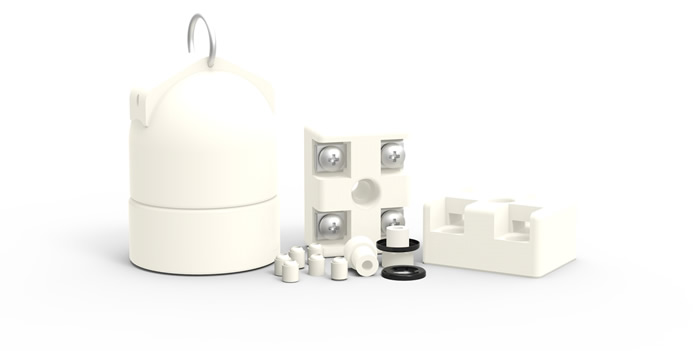 From terminal blocks and bulb holders to high-temperature NPC cables, we've got everything you need all in one place to give you the complete heating system solution.