Case Study
Case study: Aerospace Industrial R&D Furnace Oven
A private aerospace manufacturer required the ability to test materials at their own facility under the same conditions as atmospheric re-entry.
Weco International, our business partner in the United States introduced us to the client, a private aerospace manufacturer that provides spaceflight services. The client needed a heating system that could replicate the conditions of atmospheric re-entry in a controlled setting. The system would enable them to undertake in-house research on various materials to see which ones can withstand the extreme conditions.
Ceramicx collaborated with Weco International in helping to design a custom industrial research and development furnace for the client. The main challenge was getting the furnace oven to reach 1,100°C (2,012°F) to simulate the re-entry conditions from space. The client was provided with various design concepts, that through consultation were developed over many months into the final furnace oven and control system. Various insulation and glass types were considered in order to achieve the high temperatures.
The Ceramicx team built the stand-alone oven completely in stainless-steel, with short wave quartz halogen heating elements. The elements were mounted on each wall of the oven, and specifically above and below the target material. The oven was lined with specialised high-temperature insulation, with fabricated stainless-steel housings locating everything in place. Two observation ports, built in thermocouples and pyrometers (non-contact infrared sensors) allow the client to fully see the process and have accurate control of the oven's temperature. The oven also has a viewing window for a FLIR camera. The control system was designed and built by Ceramicx to suit the client's requirements.
| | |
| --- | --- |
| Oven Frame: | Stainless Steel |
| Insulation: | Specialised High Temperature Insulation |
| Element Type: | Short Wave Quartz Halogen Heating Elements |
| Controller: | Siemens S7 |
| Control Zones: | 5 Control Zones |
| Control type: | Via Air Temperature T/CK's Non-contact Infrared sensors |
| Total Power: | Approximately 44 kW |
Ceramicx completed the infrared heating system in approximately 6 weeks, including all the work from welding through to load testing every circuit.
Ceramicx fully tested all the components and pre-programmed the control system, which along with the dedicated manual and video allowed the oven to become operational in a short time frame.
The client's aim was to protect an orbital module from extreme heat. Prior to our collaboration, the ability to test the efficiency and durability of materials in-house was lacking. Before contacting Weco International, all experimental components had to be outsourced to a specialty-testing laboratory during the R&D phase. This created a large hurdle in minimizing cost and improving production efficiency. The absence of a high-temperature furnace oven hindered their research and development. Therefore, the most important result gained by the client was giving them flexibility and capacity to quickly heat test the durability of new materials.
Quartz Halogen Tubes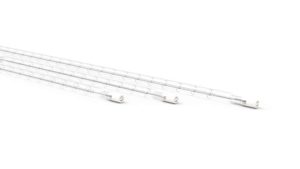 With peak emission wavelengths in the short wave range between ∼1.0 – 1.2µm, quartz halogen infrared heating elements are designed for applications requiring a fast thermal response and/or high power density. The standard halogen element is available in 3 sizes – models QHL, QHM and QHS. Non-standard sizes, power outputs, voltage ratings and termination types available on request