Case Study
Case study: Upgrading Food Packaging Thermoforming Lines
The client required a complete upgrade on one of its main plastics thermoforming lines – manufacturing consumables for the food service industries.
The project scope included removal of the existing calrod oven and control system and the replacement of it with an efficient ceramic-based top and bottom panel heater infrared oven clamshell style opening frame work. Ceramicx products, components and design input were integral to the success of the project.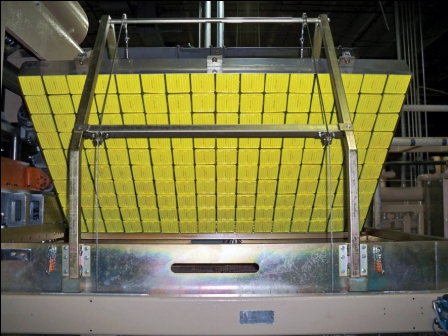 The Issues
Ceramicx infrared heat consultants worked with long-term associate and USA heating expert Weco International to provide the client with the necessary systems, design and infrared heating hardware. Weco engineers succeeded in reducing the client's overall plastics thermoforming oven length by half – resulting in immediate energy savings. Cycles (shots per minute) were also increased by some 50% making the upgraded line not only the fastest machine within the factory – but within the client's international organisation as a whole.
Weco International also upgraded at the client's complete extruder control system; chrome roll; dancer bar accumulator – and also supplied and commissioned a 3 axis servo motion controller for the sheet index and tool systems.
The motion control package included the first ever Ethernet communication In terms of operations the machine operator was complete machine visibility through two 15" touch screen monitors.
The Solution
Quality infrared-based heaters combined with best-in-class heat control systems have all but nearly eliminated maintenance at the client's US plant – with only four component replacements in some 26 months of new operation to date. In addition; downtime, scrap and heat-up times at the client factory have all significantly decreased; resulting in a very quick return on investment.
Testimonial
'We are more than pleased with the professionalism, know-how and expertise displayed in this project. More than that, the results have been truly world class. Just imagine the ability to improve your current operation using only half the energy!'
Brett Wehner, WECO International Founder and Director
Frank's Message
For this client, the Weco/Ceramicx Infrared technology and improved heater design made increased profit from the thermoforming line a reality.
In many ways, the USA is still the proving ground and test-bed for good ideas. American industry is often the first to see and grasp the realities of commercial opportunity. Energy saving and energy-per-part will be the defining issues of the next decade – for the US and the World. Weco and ourselves will be doing all we can in bringing these issues and the increased profit to the fore of American business.'
Frank Wilson, Ceramicx Managing Director
---
SUPPLIER – Ceramicx – Weco International
CLIENT – International Food Service Packaging Producer
BUSINESS – Thermoforming of food service consumables
LOCATION – USA and International